Black Insomnia Espresso Brownies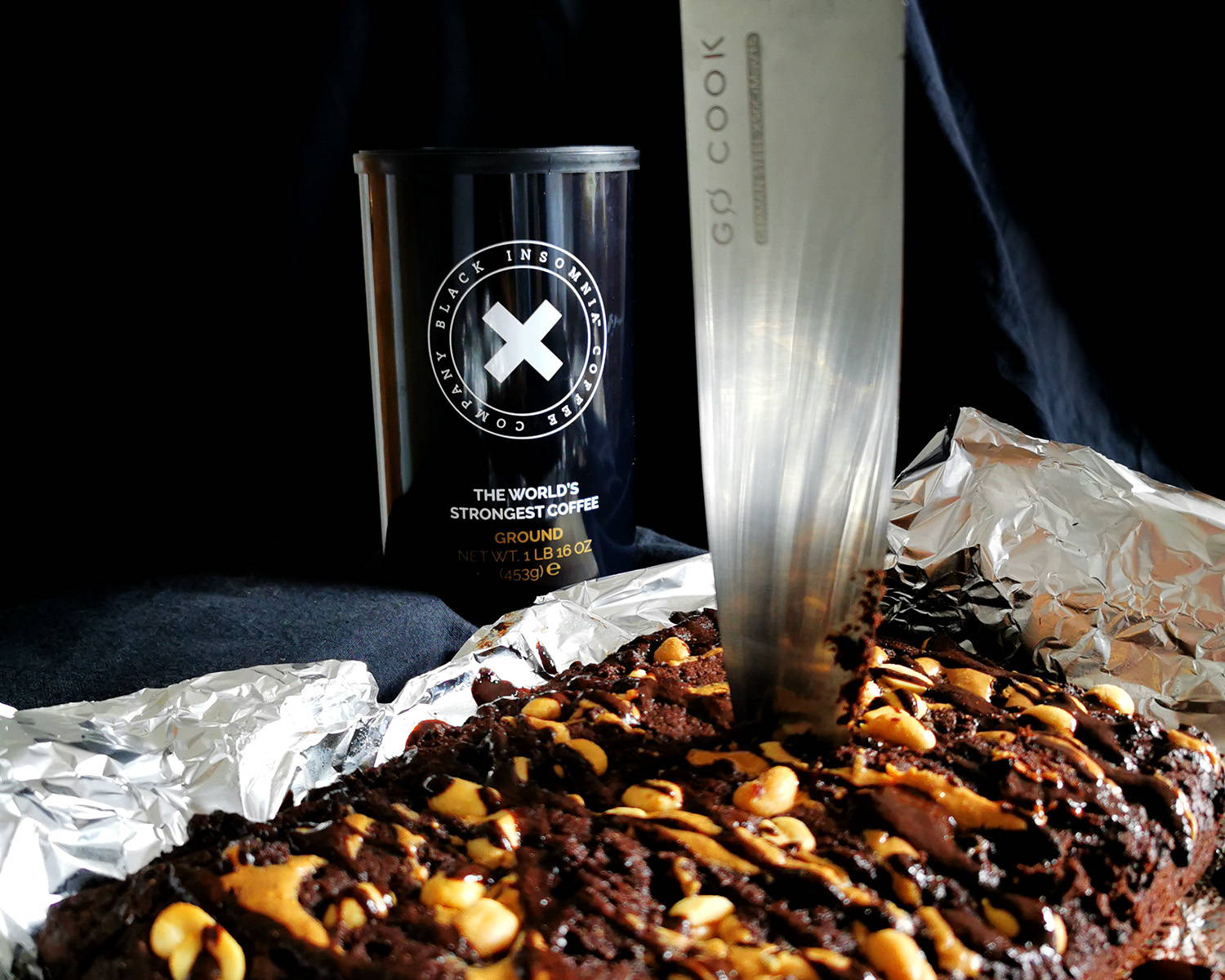 Awaken your tastebuds with our insanely delicious Espresso Brownie recipe...
Who doesn't love a gooey, rich, irresistibly more-ish chocolate brownie?

We thought we'd take this classic and Insomniafy it, amping up the caffeine levels (hello dark chocolate AND coffee) and taking the humble brownie to whole new levels. Ideal for those moments when you need a pick me up in more ways than one.
Our recipe has a bit of a twist. Most espresso brownie recipes you'll come across use instant coffee, rather than fresh - poor practice we say! We've found that by brewing up some intense espresso style coffee using our original or dark roast, this gives the bake an incredible deep, rich and slightly earthy coffee flavour. We've also gone for a bit of a Snickers vibe, which is optional, but definitely recommended (if you haven't seen our blog post about nuts + coffee you really should).
Ready in about 30 minutes flat, this is sure to be your new go-to treat, trust us.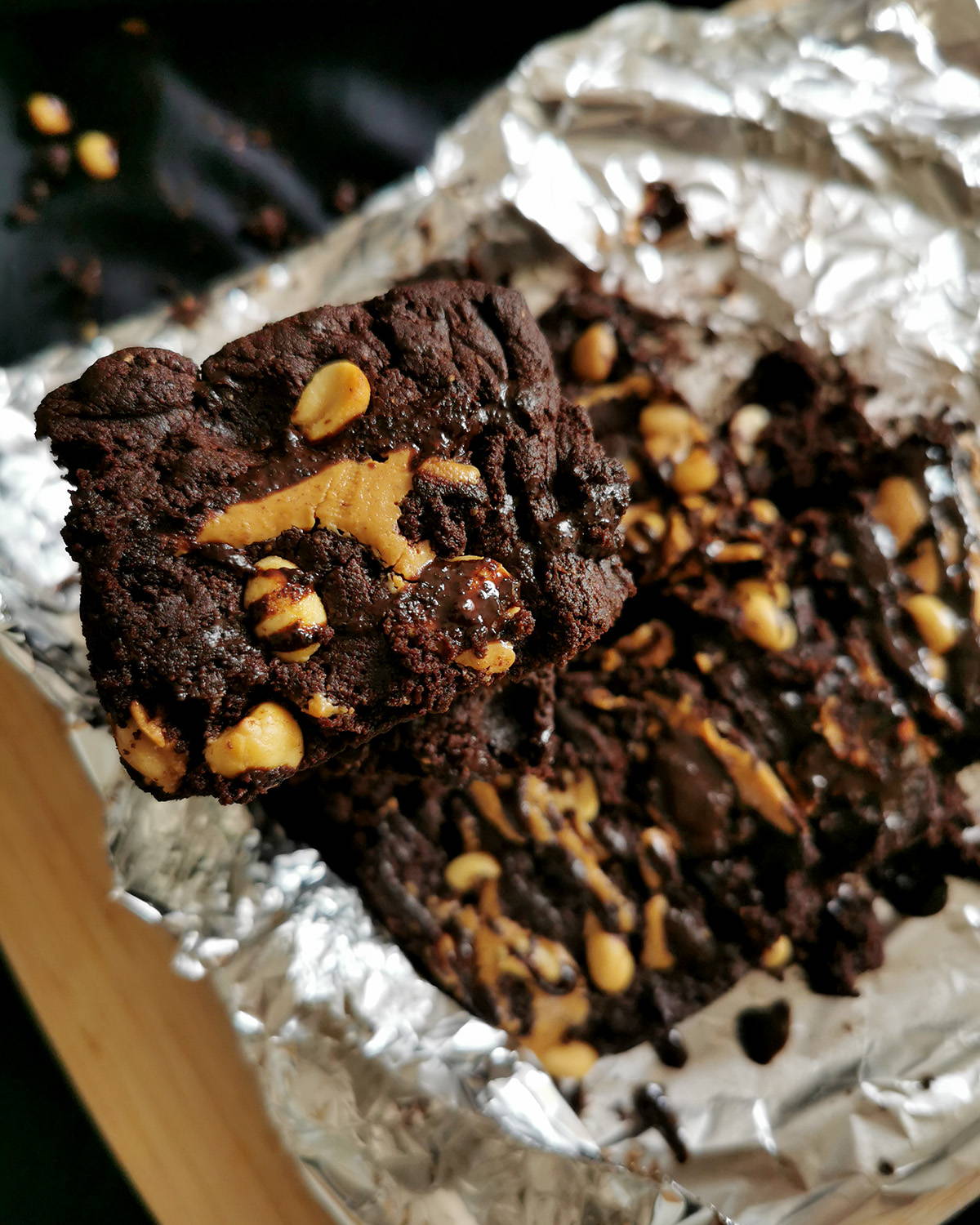 ---
The recipe:
2 eggs

200 g dark or plain chocolate

170 g self-raising flour (option - can sub 2-3 tbsp of flour for the same of the used coffee grounds)

3 heaped teaspoons cocoa powder

180 g sugar (brown is great here)

Pinch of salt

1tsp vanilla

230 ml strong coffee

Salted peanuts + peanut butter (optional)
Preheat the oven to 180ºC/350ºF/gas 4. Line a roughly 20cm square baking tin with foil or greaseproof paper.

Place a heatproof bowl over a pan of simmering water, making sure the base doesn't touch the water. Break 150g of chocolate into the bowl and allow it to melt, then set aside to cool slightly.

Meanwhile, sieve the flour and cocoa powder into a large bowl, then stir in the sugar and a pinch of salt. Stir in the vanilla, coffee and melted chocolate and eggs until combined.

Roughly chop and stir in the remaining chocolate. Pour the mixture into the prepared tin, spreading it out evenly. Sprinkle over the peanuts + peanut butter (if using), then place into the hot oven for 20 to 25 minutes, or until cooked on the outside, but still gooey in the middle.

Leave to cool for around 5 minutes, turn out onto a wire cooling rack, then decorate with drizzled melted chocolate. Serve warm with a scoop of vanilla ice cream, if you're feeling extra indulgent.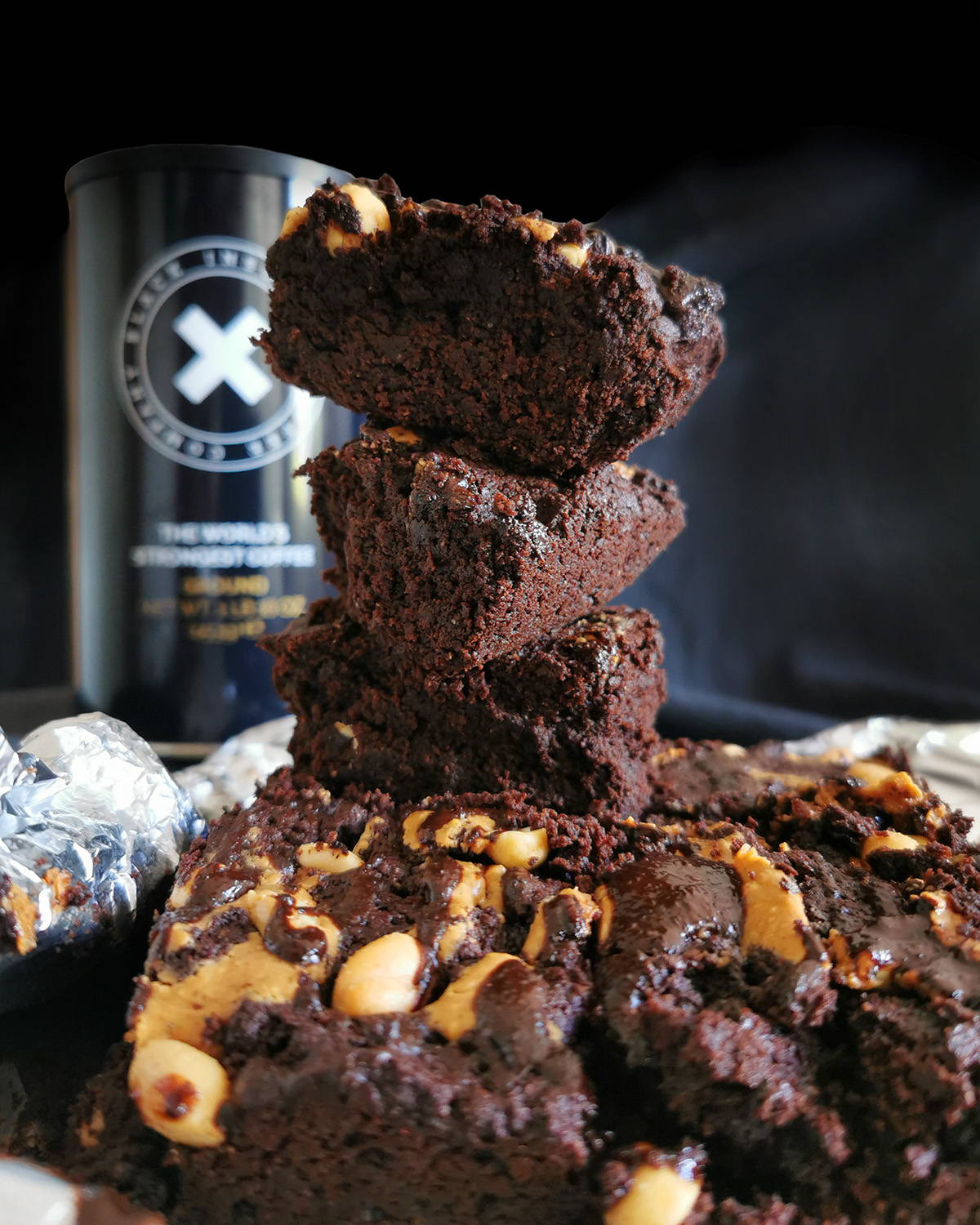 ---
Shop Black Insomnia Dark
Richer, Deeper and Darker than ever before. This darker roasted take on our super-high caffeine coffee is perfect for lovers of a heavier, more intense brew. You asked, we answered. This coffee does NOT go unnoticed.
---
---
---