Get Sh*t Done With: Liam McGeary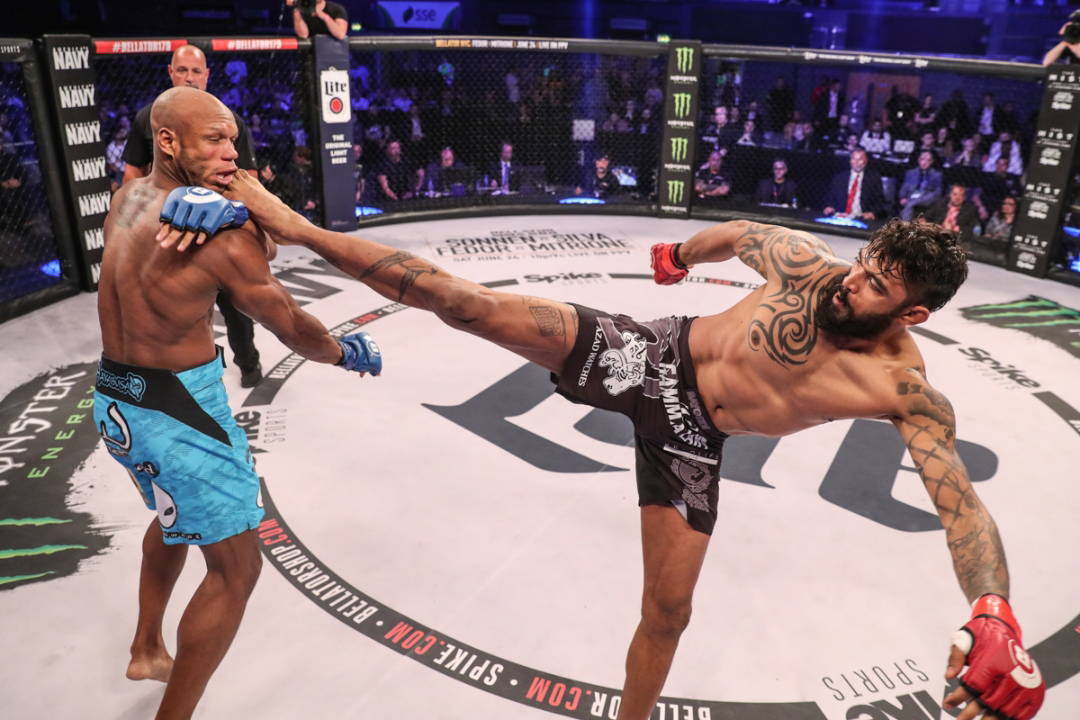 An honest + open conversation with world renowned MMA fighter and Dad of three, Liam McGeary.
If you follow the MMA world at all, then you'll know the man-mountain that is Liam McGeary. An apparent natural at the sport and standing at an intimidating 6ft6, McGeary only had 2 amateur fights before turning pro in 2010. The recession in 2009 allowed him to train his muscles in the gym, rather than on the building site and from there started kicking his way to victory in the International cage.
Since being crowned Bellator world light heavyweight champion in 2015, Liam moved to the US, settling in idyllic Hawaii and now enjoys being Champion Dad to three. Lockdown saw their family unit split up between two countries and Liam back on the construction site, which is when he spoke to us...
---
Thanks for chatting with us! How do you wake up + what's first on your agenda in the morning?
Thank you for hooking me up with your delicious coffee! As soon as I open my eyes, I'm ready to go in the mornings. First on the agenda though is always coffee!!! I have a couple of cups throughout the morning to kick-start the day, then I'm good to go.... maybe a couple cheeky ones in the afternoon too.
What's your typical breakfast? 
I don't really do anything too fancy for breakfast, I'll make the kids pancakes and put little chopped up Cadbury buttons in them. Not all the time, but as a nice little treat. I just have toast and poached eggs, I love fresh mango in the mornings too!
What's your favourite way to brew up?
It has to be with the cafetière. It takes that little bit longer but you get to enjoy the aroma of the coffee as it sits next to you brewing. Most days I'm in a bit of a rush, so those pour-over bags are perfect - they're my favourite of the black Insomnia products just purely out of ease. But to really enjoy my Sunday morning coffee, I'll go for the dark roast blend in my little cafetière.
---
---
When did you get into MMA fighting and why?
I got into MMA fighting because of the recession back in 2009. All my work dried up on the building site and there was time for me to get into the gym. I'd had a little dabble with boxing in my younger years (14/15) but I wasn't ready for that back then. I had to experience the path I went on first and then I eventually found the right gyms. I Was fed up with getting into trouble for doing something that I really enjoyed doing and was very good at, MMA was a perfect escape from all of that. It really helped me to focus, I had a goal I wanted to achieve and the discipline the gym brought was exactly what I needed.
I found a gym on the Jersey channel islands called 'Gracie Barra' in January 2009 (I had come across them back sometime around 2004 ish but I wanted to party back then, that's a different story!) then everything just skyrocketed.
Went to America in 2012 and became world champion in 2015. I'd won a bunch of fights and competitions along the way, and an award for submission of the year. It was a very very fun ride.
When you're training, what is it that motivates you to push yourself?
Simply, to do better than the last time. While I was training for my fights my motivation was myself. I'd already gone through the hard part of life, I found training fun!! I get to fight and train every day and get paid at the end of it. Damn right I'm gonna do better than the lift I did last time, or better rounds in sparring than I already did. I had and still have some great coaches that spotted those qualities in me and we really work well together.
Now though, my new title is dad so it's all about them. They are my inspiration to want to do better. For that, I'm gonna need coffee and plenty of it, so keep it coming!
What's more important to you: work harder or play harder?
It used to be 'play harder', but now it's 'work harder'; I have responsibilities now.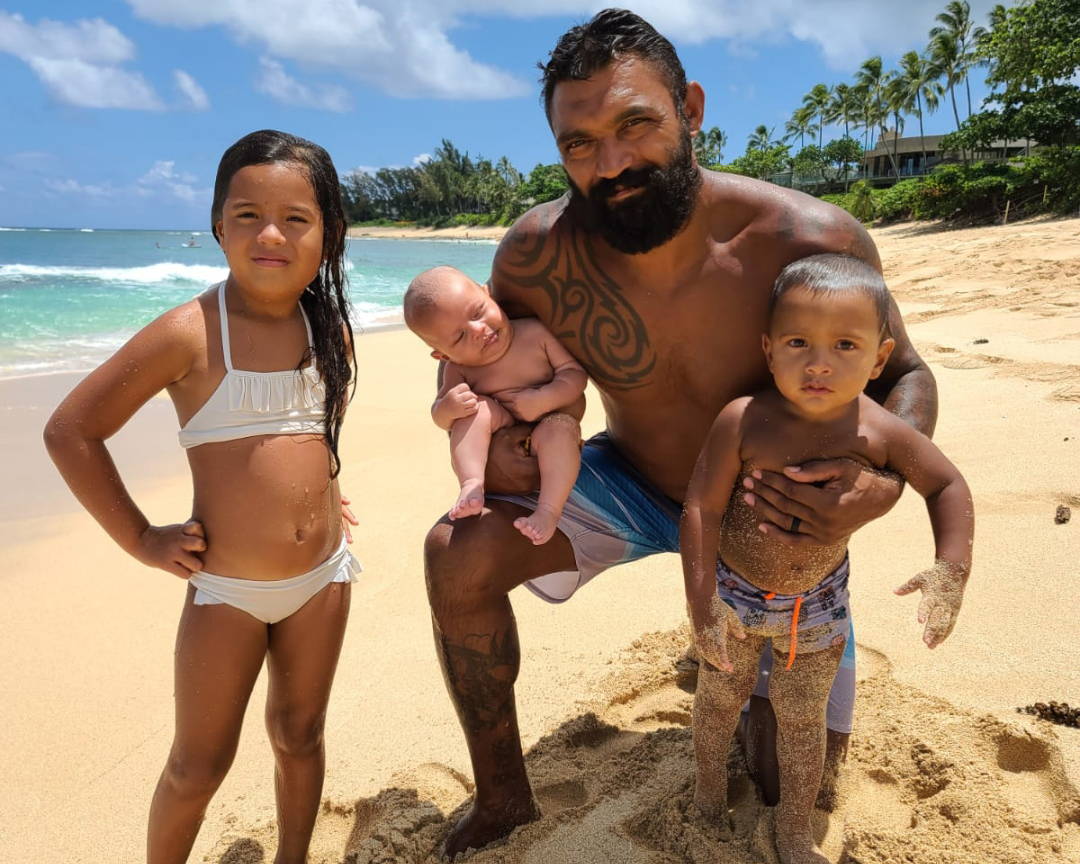 ---
How have you found life during lockdown?
I had just recovered from a year with a broken jaw and then lockdown hit. I've been away from my wife and kids for the last 9 months, so that has not been fun at all. But it is nearly sorted now and I'll be back with them very soon, I've just kept myself busy and not really stopped. I managed to get back to Jersey to work in construction for a while and see some friends. The best part was getting to spend time with my mum and siblings back in my home town of Kings Lynn. She had plenty of work for me to do back home, it was like she saved my chores in the back garden for me! Such weird times, but we all had to find a way to get ourselves through. I had to isolate 6 times, and that was so tough, but it had to be done.
What's your advice for others who are finding training alone/at home tough right now?
If you're finding it tough at home right now, just know that you are not on your own. Everyone is going through their own struggles, but you've got to find a way through. Remember there's always light at the end of the tunnel. You may not be the best person to be around sometimes whilst making your way through, but your close friends and family will always understand. Just talk and you can get past absolutely anything.
There's been so many videos popping up and zoom calls with people doing their home workouts, so it has been fun to be able to connect with people that way. But now we are on the slide down to freedom. I wonder what the new world's gonna look like after.
---
We massively appreciate Liam taking time out of his busy schedule to sit down and answer our questions so thoughtfully. We've certainly got some huge take-aways that we're gonna put to good use, and we hope you've found something that resonates with you too.
Keep up with Liam on Instagram - @liammcgeary1
Watch out for next month's Get Sh(It) Done edition, when we'll be shining a spotlight on our next squad member!
---
---
---