Express-o Mug Cake Recipe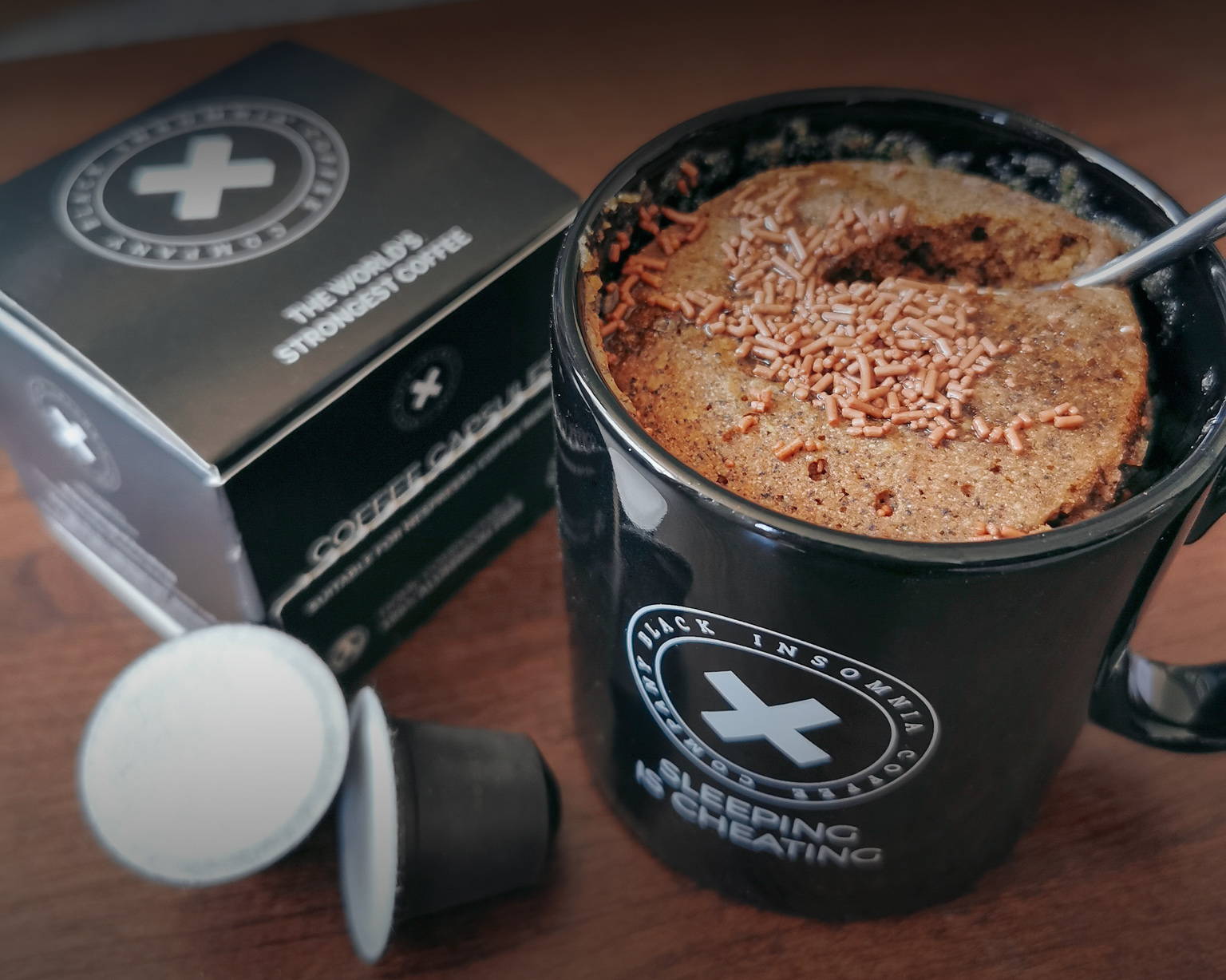 Devilishly delicious espresso mug cake in under 5 minutes.
Everyone needs to have a sweet treat once in a while, even if you're not regularly a pud fiend there's always an occasion when a bit of sugar just hits the spot.
So when the feeling grips you at 11:05pm and the corner shop's just closed, and you realise your kitchen cupboard doesn't actually contain any baking implements, what then? To save you from gnawing on a sugar cube or licking yesterday's empty chocolate wrapper, read on to discover our crazy quick 5 minute coffee mug cake recipe.
We know you're probably well stocked with coffee, so we'll start there. Surprise Surprise, if we're having cake, make it rich, strong and kickin', like our coffee. I'm imagining you've got a whole cupboard of mugs, so baking it's not going to be a problem. Step away from the oven, that's far too much hassle - we're going ready-meal style with the microwave. Hopefully you've still got some flour lurking, possibly leftover from pancake day (from when you made our coffee grounds pancakes, right?) and an egg (hopefully not a leftover from pancake day).
The beauty of this recipe is that you don't need to have ANY expertise in the kitchen.
---
The recipe:
1 espresso cup of Black Insomnia coffee (from our pods works a treat)

2 tablespoons of sugar

1 egg

1 tablespoon of melted butter

4 tablespoons of plain/all-purpose flour*

1/4 teaspoon of baking soda (do NOT over-do this, as it can completely over-power the cake flavour)

1/2 tablespoon of apple vinegar**
*If you only have self-raising flour that's fine, just leave out the baking soda.
**You could leave out the vinegar, but your cake may not be as fluffy.
First, brew your espresso using whichever method you prefer (we used a black insomnia pod). Melt the butter in the mug using the microwave on high for 30 secs, then stir in the sugar, followed by the remaining ingredients + the coffee. Mix well, until everything is combined. Scrape any mix down from the sides of the mug and microwave on full power for 1 and a half minutes.
Need it to be vegan? Just make up for the lack of egg with 1 tablespoon more coffee/non-dairy milk and switch the butter for dairy free margarine and increase to 2 tablespoons!
Variations
Double Espresso - mix in the used coffee grounds! Not only does this make your pud essentially 'zero waste', but it also adds texture to the cake and tastes incredible.
Mocha - Switch out 1 heaped tsp of flour for cocoa powder and add choc chips.
Coffee + Walnut - Add chopped walnuts to the mix.
Boozy - Add a glug of whisky/rum/brandy and add an extra ½ tbsp flour. Top with whipped cream, because why not go all out?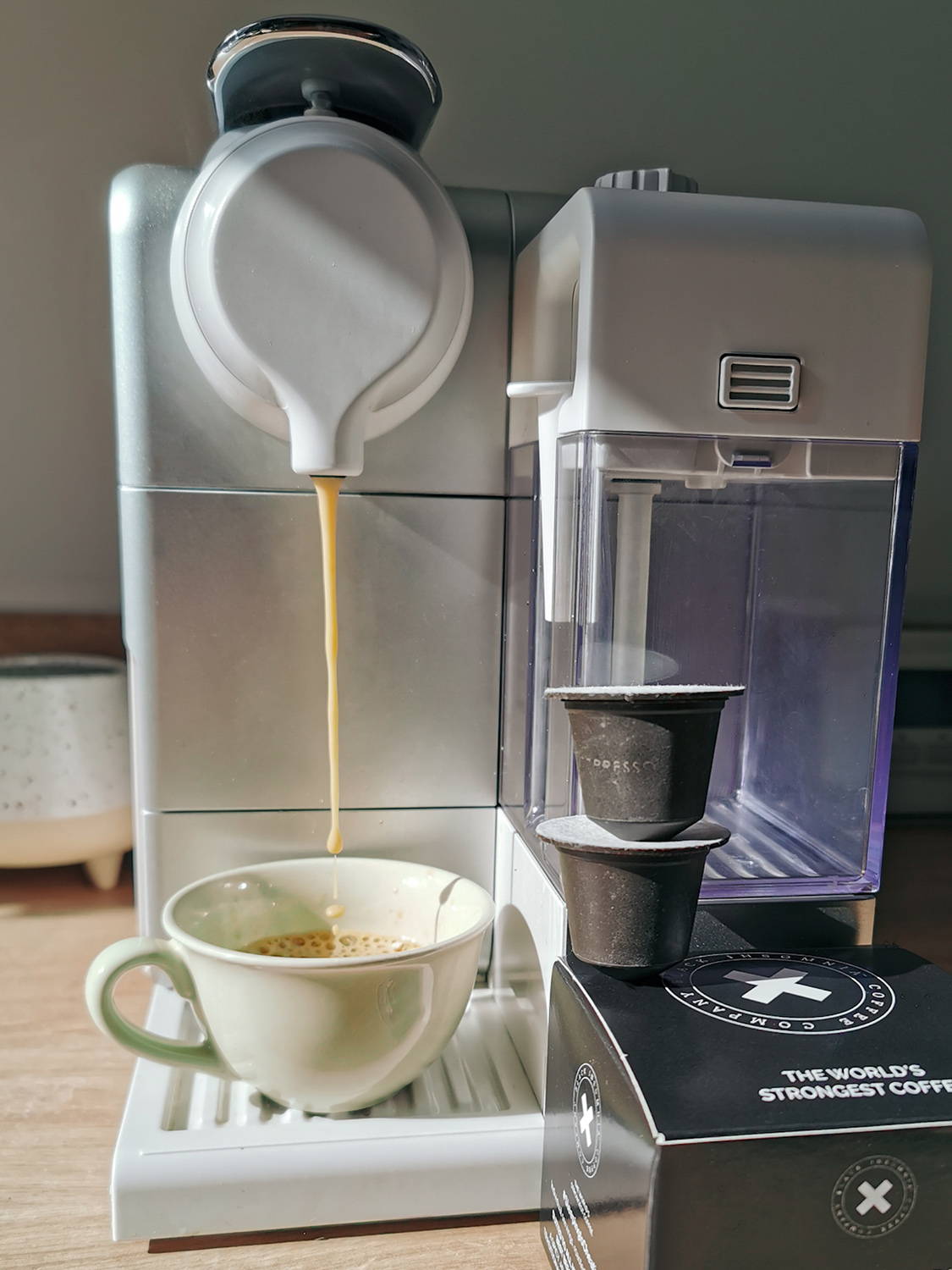 ---
---
---
Shop Black Insomnia Coffee Pods
They're Nespresso-compatible* and 100% home compostable! They're completely plant-based, and we worked hard to make sure their oxygen and light barrier is self-contained and requires no plastic packaging. Meaning your Black Insomnia coffee is perfectly fresh, and impact on the environment is minimized. So you can love the planet and love strong coffee!
---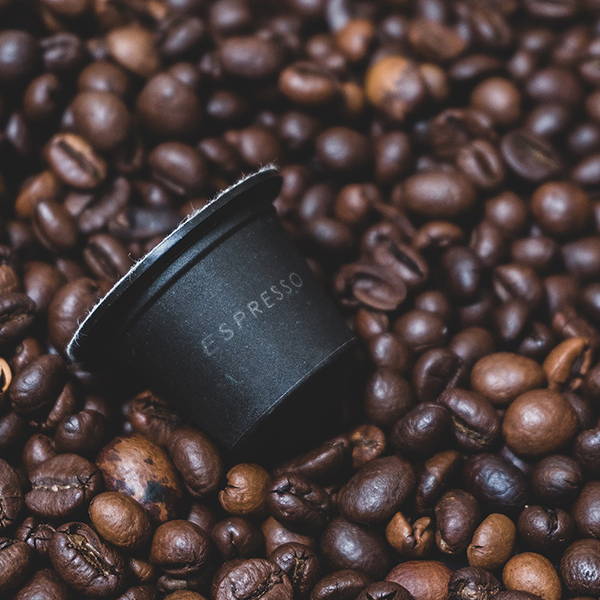 ---